Warhol: Volume 1 - Paintings and Sculpture 1961-1963 (Hardcover)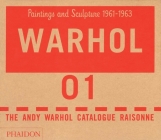 Description
---
Andy Warhol (1928-1987) is arguably the most iconic figure in twentieth century art, an enigmatic personality who not only altered the definition of art itself but also in his wake left a vast and staggeringly complex record of his activities. Warhol's archive consists not only of his artworks but also 1,500 cardboard boxes, flat files, and trunks filled with source material, memorabilia, correspondence, and junk mail. When the catalogue raisonne is complete, it will constitute an indisputable record of the artist's paintings, drawings, and sculptures -- some 15,000 works produced by the artist between 1948 and 1987, the year of his death.
Volume I documents the artist's early paintings and sculpture made between 1961 and 1963 and incorporates newly discovered works as well as some previously thought to be lost. Included are not only projected paintings influenced by popular advertisements, comics and other printed ephemeral but also classic and much-prized Warhols such as the Campbell Soup paintings, serial works representing cultural icons Marilyn, Liz, Elvis, photobooth portraits of Warhol's friends and idols as well as early self-portraits. Accompanying the works and detailed catalogue entries is an amazing array of source material -- from newspaper scraps and movie star publicity stills to photographs of Warhol and his consorts in his studio and at exhibitions.
In consultation with a team of experts, Georg Frei and Neil Printz analyze Warhol's unique techniques and subject matter as well as establish a strict chronology for his stylistic evolution. Their text provides both a compelling overview and unparalleled detail of an endlessly fascinating life and career.